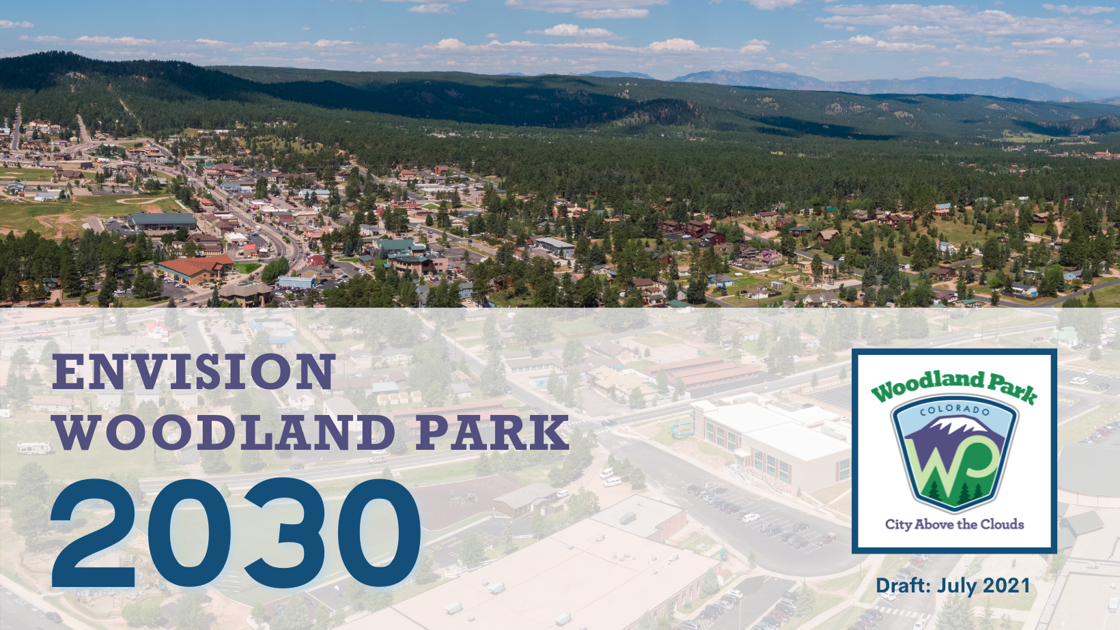 Woodland Park Planning Commission adopts global plan for 2030 | Pikes Peak Courier
The Woodland Park Planning Commission adopted on October 28, by joint resolution, the final draft of Envision Woodland Park 2030, the city's updated 10-year comprehensive plan.
The resolution goes to Woodland Park City Council on November 18 for approval. State law requires municipal and county planning bodies to update general or master plans every 10 years.
The plan is meant to be a guidance document for planners. It is also ambitious, which means it has no enforcement mechanism.
Work on the update officially began in February, but Planning Commissioner Carrol Harvey said it really started early last year but was delayed by COVID-19.
Jen Gardner of Logan Simpson, the consulting company that facilitated the update, presented the final version. She reviewed the vision and mission statements and provided an overview of the process using a slide presentation. She will make the same presentation at the municipal council meeting on November 18.
The company interviewed 27 stakeholders, created five questionnaires that received approximately 1,000 responses from 350 people, held a town hall with approximately 80 participants in person and online, conducted a Woodland Park civic education outreach program High School and held a booth at Old Fashioned July 4th event.
More than 70 city and county officials and community members volunteered to work on eight subcommittees to create the 12 chapters of the document. They worked a total of about 800 hours on the project.
Over the past several months, Logan Simpson's representative, Kristy Bruce, has been working on implementing the changes, modifications and additions to the document suggested by the Commissioners. She recently accepted a planning position in Fort Collins, and this was her last appearance at a planning committee meeting.
Two Commissioners, Ken Hartsfield and Al Bunge, were absent from the meeting, but the five Commissioners present formed a quorum. They adopted the plan unanimously.
The commission also recommended approval of another item that will be on the November 18 city council agenda – a request from owner and property developer David Mijares for a minor subdivision and a final dish for three lots at 110 Chester Ave. The three rectangular lots were plated in the 1890s. Unfortunately, Fountain Creek crosses all three lots making them difficult to develop.
Mijares obtained a flood risk development permit for the three lots at the planning committee meeting on October 14. Its subdivision plan includes the division of two lots on each side of the stream and the allocation of the section of the stream to the city.
This section of the stream was improved in 1999. The city already has other sections. An alley, which is also a utility easement of the city, will provide access to the city for maintenance.
Mijares must obtain title insurance and authorize a 15-foot private easement for CORE Electric Cooperative, formerly Intermountain Rural Electric Association, to install electrical service on Lot 2.
The company will dig under the stream to serve other lots. This will require the company to drill a minimum of eight feet below the creek before starting to drill, said city planning director Sally Riley. A water pipe will also have to pass under the stream, she added.
During the reports, former town planning commissioner Jerry Penland criticized the commissioners for not acting quickly to control the proliferation of short-term rentals in the city.
These rentals have one purpose, to provide places to live for people in times of shortage of long-term rental properties, he said. However, problems arise because permits for these rentals are too easy to obtain and absent investors do not care how the rentals are used.
"We don't have any ordinances to stop 16 people from renting a house three houses from my house and having a big party," Penland said.
He said several cities in Colorado, including Colorado Springs and Denver, have created regulations to control short-term rentals.
"You have to make this problem your own," he said. "You don't have to reinvent the wheel. Colorado Springs has some good ordinances that you can modify to fit Woodland Park.
He said owners of rental properties should be the primary resident and should stay in the house as guests. There should also be a limit on the number of tenants.
"You should set a deadline for compliance," he said. "You shouldn't keep these rentals forever. "
He added that in his experience anything that is vested in Woodland Park remains and will not change during his lifetime.
"I think we can do it," said Commission Chairman Jon DeVaux. "We need to gather information – research facts – and organize working sessions. We need to set a deadline, maybe in the first half of 2022. We should do it – it's our job.
Harvey said Logan Simpson is doing a code review and short-term rentals will be part of the company's report in December.
Commissioner Larry Larsen suggested having a working session in January.
"Once their recommendations are received, we can act fairly quickly," Harvey said.
The next planning committee meeting will be on Wednesday, November 10, to avoid having a meeting on Veterans Day. This meeting will include a public hearing on Tamarac Park.