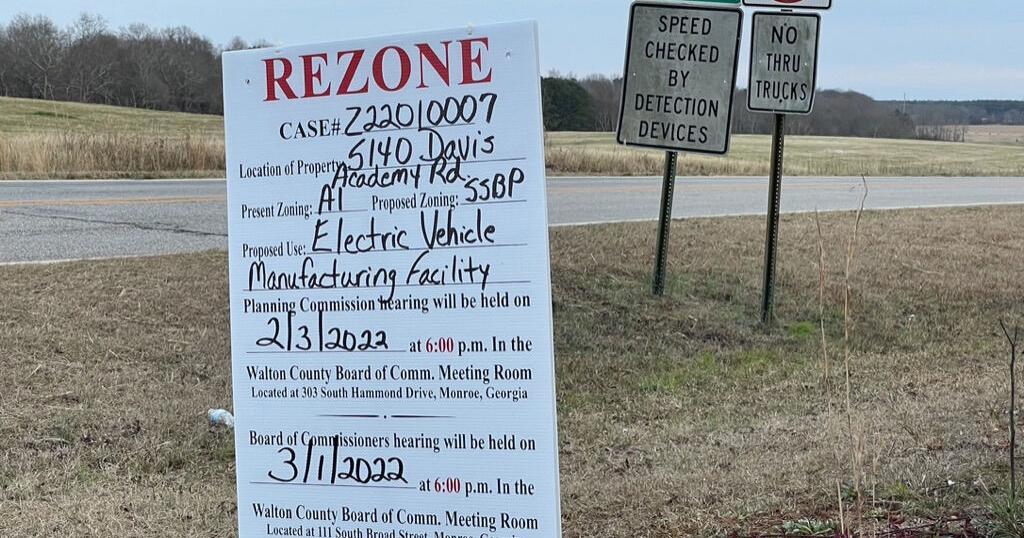 Walton County Planning Commission to Consider JDA Rezoning Application | News
MONROE, Ga. — The governor said Rivian was coming, and the company said it wanted to build and hire, but — at least in theory — none of that matters if plans don't clear county zoning.
Typically the more mundane matters coming before the Board of Commissioners each month, zoning changes are often approved without notice.
But the process is underway to rezone about 180 acres in Walton County for the electric vehicle plant that Rivian Inc. plans to build in Stanton Springs North.
The nearly 2,000-acre site straddles Morgan and Walton counties, with a portion in the town of Social Circle.
The Walton County rezoning is presented to the County Planning Commission at its 6 p.m. meeting Thursday at the government building, 303 S. Hammond Drive.
Members of the panel – who are appointed by members of the Board of Commissioners – offer recommendations to the elected BOC, which will usually hold a public hearing the following month at its regular meeting and give a positive or negative vote on a project.
Making the rezoning application is the Joint Development Authority of Jasper, Morgan, Newton and Walton Counties. The JDA is acting as the developer of the $5 billion project.
Thirteen properties in the south end of the county are to be rezoned. They are on Lynch Road, Davis Academy Road and US 278.
The JDA is asking to change the zoning from A1 and A2 (Rural Estate District) to SSBP, the county's special zoning for Stanton Springs Business Park.
The landowners considered for rezoning are Ronald J. and Carol H. Bowden, 1800 Lynch Road; Oscar Harold and Mary Sue Malcom, 1910 Lynch Road; Jerry Felton Bowden, 1856 Lynch Road and 1896 Lynch Road; Michael Harold, Oscar Harold and Sue Bowden Malcom, 1910 Lynch Road; Mary Lynn W. Bellville, 5991 Davis Academy Road; Alan S. Verner, 5140 and 5804 Davis Academy Road; Robert E. Farmer, 1857 Lynch Road; a property owned by Mary Sue B. Malcom on Lynch Road; property owned by Brenda Owensby Bowden on Lynch Road; Donald Howard Bowden Jr. and Charlotte R. Bowden, 2114 Lynch Road; and Tonia Bowden Paramore, 1989 Lynch Road.
Verner was president of the JDA from its inception in 1999 until 2021. He has retired from the board and several properties on his family's longtime farmland will likely be used at the Rivian site in the two counties.