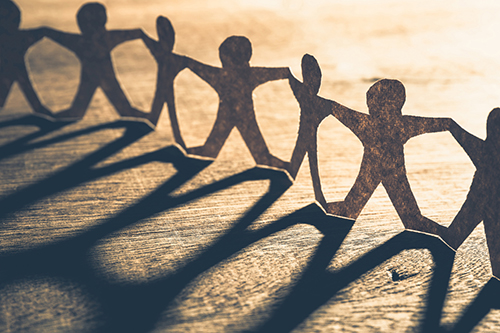 VMs discuss potential changes to Westchase rules and hear from County Commissioner
The Dec. 14 meeting of Westchase (VM) Voting Members saw the visit of County Commissioner Harry Cohen and VMs adopt a series of neighborhood-specific guidelines amendments.
The meeting also saw Westchase Community Association (WCA) Director Dale Sells, Chair of the Document Review Committee, brief VMs on the current review of Westchase Rules and come up with lists of possible changes for consideration. .
Government Affairs Committee Chairman Eric Holt introduced Cohen, thanked him for his visit, and asked him to address a handful of topics. Speaking at length to the VMs, Cohen first addressed the state of the roads on Linebaugh Avenue. "There is no doubt that the condition of the pavement is deteriorating," Cohen said. "It will certainly have to be repaved, but it was not programmed for paving. Cohen added, however, that recently made federal infrastructure funds will allow the county to fill some of its paving backlog, potentially speeding up a fix for Linebaugh.
Citing the county's backlog for upkeep of sidewalks, roads, lighting, congestion and safety concerns, Cohen said, "Across the county, we are about $ 800 million short compared to where we need to be to bring things up to current standards. He also spoke about the cancellation of the infrastructure / transit sales tax in the county, saying commissioners are still waiting to hear from a county judge on how the nearly $ 500 million raised will be. reimbursed to taxpayers. He said the current Hillsborough County Commissioners Council voted to put a new infrastructure / transit sales tax on the 2022 ballot. While stating that funds were critical, he acknowledged that his passage was not guaranteed.
After detailing the Howard Frankland Bridge expansion and plans for the Veterans / SR 60 interchange expansion, Cohen referred to recent complaints about truck traffic on Linebaugh. "Trucks are prohibited west of Sheldon Road on Linebaugh Avenue," he said. "This is a direct enforcement issue with the Hillsborough County Sheriff's Office. He added efforts to resolve the issue. "The only thing that does is constant, consistent application. "
Cohen also referred to the recent redistribution, which placed the northern part of The Shires into a new county commission district represented by Commissioner Ken Hagan. "Is this something important? He responded by saying that he saw certain advantages in being served by two commissioners.
Cohen also spoke about his work in expanding water resources for the growing county, expanding the port and upcoming renovations to the Straz Center, which were funded in part by the county. He added that he expected county proposals to come up in January or February to build a stadium in Tampa to keep the Rays in Tampa Bay for at least half of their season. He added that no general tax revenue would be used, but special district taxes, hotel bed taxes and car rental taxes on tourists could fund the project if approved. He said he currently has an open mind on a possible stadium but is keen to hear from his constituents.
Matt Lewis, who was attending the meeting as Westchase Community Development District chairperson and speaking on behalf of the district, asked for Cohen's help in pushing forward a proposed cell phone tower in the South Glencliff parking lot Park. The case was delayed by county staff, citing objections from residents of Woodbay. While stating that he could not discuss or take a position on a zoning issue that had to be submitted to the board, perhaps as early as February, he said: "I am very aware of the need for a tower of cellular telephony ". He added, "There seems to be a lot, from what I've seen in my inbox, a lot of community support for this."
Cohen's remarks ended with resident Connor Lamb also asking for his support for a cell phone tower in the park to improve coverage after his toddler daughter stopped breathing as her call from emergency was abandoned. VM Rick Goldstein (Woodbridge) also enlisted Cohen's help in further enforcing the county code on trash cans in West Park Village, which Goldstein says attracts turkey vultures to the community.
Opening the meeting, WCA President Shawn Yesner called on VMs to vote on a handful of proposed amendments to neighborhood-specific guidelines. Bronze pool cage fences for Baybridge, Wakesbridge, Stockbridge and Sturbridge, as well as black aluminum fencing and the use of black mesh for the support of the Baybridge, Sturbridge and Wakesbridge houses were adopted for the second time. (which means they are officially approved). on Montague Street.
The MVs then heard a brief debate on a proposed directive to allow houses in Harbor Links / The Estates to have gutters the same color as the roofs; the current rule only allows gutters to be the same color as the body or trim of a house. Harbor Links / The Estates VM Nancy Sells spoke out against it, who said the broad directive could allow green, red and variegated gutters. Dale Sells, also a resident of the neighborhood, also observed that the document review committee was looking to update the color rules for gutters throughout Westchase.
Harbor Links owner who proposed the change, Matt Ring, argued for its passage, saying it was meant to be inclusive and intended to give homeowners options currently being implemented in building new homes. "Highland Park has allowed colored gutters for many, many years," he said. Ring added that the variegated roof shingles were largely earth tones. "You're not going to buy a variegated gutter. I don't think that's an argument.
However, the proposed Harbor Links / The Estates gutter directive ultimately failed with 17 of 23 VMs opposing.
Dale Sells then briefed VMs on the work currently being done by the Document Review Committee. He said current members of the review committee included residents of Bennington, Chelmsford, West Park's Classic Townhomes, Harbor Links, Radcliffe and Woodbridge. He distributed a list of amendments to the rules that the committee is currently discussing. He stressed that the list was just starting points and some might not emerge from the committee while others, not currently on the list, could be added. He encouraged MVs and residents to submit any contributions, including additional edits, to Association Director Debbie Sainz at [email protected] or to him at [email protected]
Click here to see the current list of RCC changes under discussion by the Document Review Committee.
Click here to see the current Residential Guidelines Amendments Committee list under discussion.
Sells observed that he frequently saw comments from residents on social media indicating that Westchase's rules were never updated. Referring to the process of reviewing and amending documents, he said. "This process happens every two years." He added that between 2011 and 2019, VMs made eight changes to the statutes, 10 changes to the statutes, 40 changes to covenants, conditions and restrictions (CCR), which offer broad prohibitions / permissions on articles and 119 changes to the articles. residential guidelines, which provide more detailed rules and specifications for permitted items.
WCA President Yesner, referring to a viral media story about an early holiday decorating violation sent to Chelmsford owners, pointed out to VMs that the owners have not been fined and, with the change of schedule, were no longer in violation of the rule. He added that the committee is already considering extending holiday decorating dates as society in general appeared to be gearing up for Christmas earlier. He said it would ultimately be up to the VMs to review and approve. He added that when some people expressed concern that allowing decorations from October to January 15 could result in Halloween headstones in front yards in December, Yesner replied, "You have to give more. credit to residents of Westchase than that. "
Yesner, however, pointed out that it was not in the power of the WCA board of directors to make or remove rules, but simply to enforce the rules that VMs have adopted. The changes, he said, are ultimately down to virtual machines.
Yesner added that another issue he receives emails about is street parking. "It's another one that's sort of on my hot button list."
Director Eric Holt said the review panel discussed the matter. Saying that he had circulated to VMs 10 Reasons Why the WCA should end the on-street parking restriction (which exists everywhere except West Park Village), he observed: "I kind of have a strong opinion to get out of the parking infractions industry. "
Holt also said that, unlike the main reason often cited in the past for imposing on-street parking restrictions, emergency vehicles could successfully cross Westchase roads even with cars parked on both sides of the road. . He said county building codes require roads to be constructed to allow ten feet of clearance between these vehicles.
Stating that the issue has been raised on several occasions, VM Mary Griffin of West Park's Single Family Homes, said: "It seems we have been misinformed from the start."
Holt's remarks, however, sparked strong protests from two West Park virtual machines, Deb Guerino and Lisa Godfrey. Guerino insisted that vehicles could not pass when two large trucks were parked opposite each other, which Holt said was not correct. Godfrey said street parking in West Park Village got even worse and a responding ambulance couldn't pass.
"The reality is, we don't enforce daytime parking," observed Holt. "What is the reason for patrolling her for the other six [hours]? "he said. He added that he went to the fire department, who told him the county had never had a problem moving emergency vehicles through the streets of Westchase, which Guerino said. insisted this was not true.Holt pointed out that in West Park Village on-street parking was already permitted and the current WCA Street parking restriction did not apply to it.
Matt King, chairman of Stonebridge, observed from the audience that the county's lined roads did not necessarily reflect what was built by the developer. Acknowledging that the Westchase CDD was not bound by WCA rules, he criticized the district for not following the WCA decoration schedule. "If the rules are there for the residents of Westchase, CDD should not set a bad example for the residents. "
Yesner said the WCA has a good working relationship with the CDD and if the rule stays the same, they could ask the CDD not to decorate outside of the hours allowed by the WCA.
VMs adjourned at 8:32 p.m.
By Chris Barrett, editor