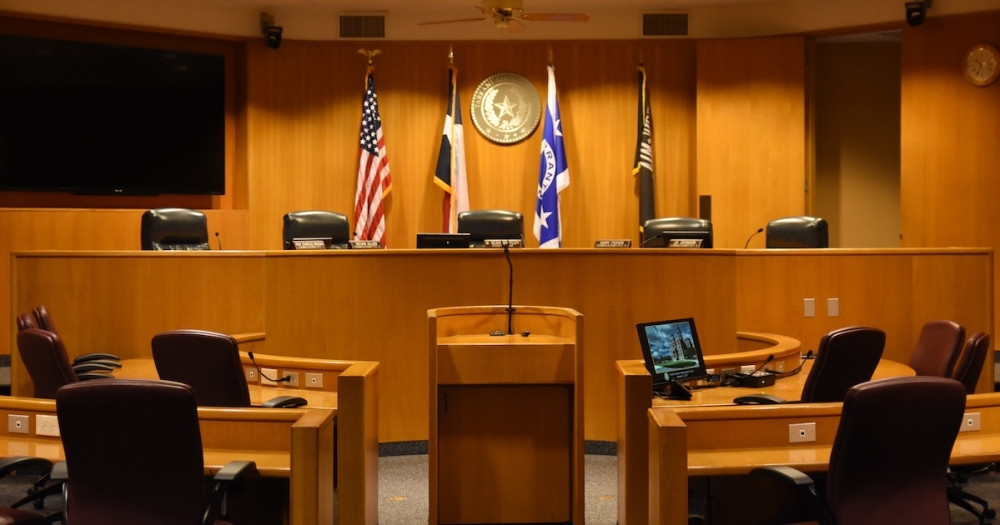 Three of the five open seats on the Tarrant County Commissioners Court this election year means new leadership will arrive in January
Three of Tarrant County Commissioners Court's five seats are open this year after incumbents opted out of running for re-election. (Steven Ryzewski/Community Impact Journal)
Next January, when the new members of the Tarrant County Court of Commissioners are sworn in, it will also mark the official end of the terms of three current members. County Judge Glen Whitley, Precinct 2 Commissioner Devan Allen and Precinct 4 Commissioner JD Johnson are not up for re-election this year.
Together, the three outgoing officials have over 60 years of experience on the field.
Precinct 3 Commissioner Gary Fickes, whose precinct includes most of northeast Tarrant County, was re-elected in 2020 and has a term that runs until 2024. Towns in his district include Grapevine, Colleyville, Southlake, Keller, Roanoke, Trophy Club, Westlake and Northeast Fort Worth,
Three open seats on the five-member tribunal also means there will be more new faces than old ones when the new tribunal is installed in January. In addition to the court, Tarrant County will elect a new criminal district attorney, as Sharen Wilson is also not seeking re-election after serving in the role since 2015.
Add to that several other county offices with no incumbents on the ballot — including several judgeships at various levels — and it creates a potentially transformative year, starting with the March 1 primary election, officials said.
A unique electoral cycle
GK Maenius has been the Tarrant County Administrator since 1988. He said that while there have been election cycles where one or two commissioners might leave the court, the addition of an open seat for the judge of the county makes this cycle unique.
"I think everyone is, you know, a little worried about how it's going to work out, but I think it's going to be fine," Maenius said. "It's something that happens, and we're going to go ahead and work through that."
Among the open seats to watch is the race to replace Whitley as county judge because of his leadership role, officials said. Already, this race has seen national figures weigh in.
But Whitley said voters should consider the duties of the county, the commissioners' court and the county judge.
"A lot of what we do is administrative in nature," Whitley said. courts; administer and hold elections; maintenance of roads and bridges; take care of important public documents; and dealing with issues related to public health and emergency management.
"It takes a lot more collaboration than just saying, 'Well, that's how I think I want it, and I'm going to make it happen,'" he said. "Understanding county government is very important."
The commissioners also appoint the county administrator who acts as the county's chief executive and oversees approximately 4,000 employees.
Beyond that, they also adopt a budget and tax rate, approve budgeted purchases, fill vacancies in elected and appointed positions, set salary and benefits, and maintain county buildings and facilities. , among others, according to the Texas Association of Counties. In 2022 and beyond, Maenius said he expects the county and court of commissioners to focus on a broad range of issues. These include tackling housing and the civil and criminal court backlog, ensuring the county has adequate facilities to keep up with growth, and investing in public health infrastructure.
Additionally, the county will launch projects that voters approved as part of the 2021 transportation bond package.
Department Spokesperson
The role of county judge is something of a hybrid, officials say. In some ways he is on equal footing with the other four commissioners, and in other ways it means acting with more executive authority and as the spokesperson for the county. Elected at-large by the county as a whole, the person who replaces Whitley will be responsible for presiding over the court of commissioners and functioning as chief of emergency management for Tarrant County.
"When they come together as a tribunal of commissioners… these five people have the same stature on the pitch," Maenius said. "But, on a day-to-day basis, the county judge is the one who represents the county."
One area in which county commissioners and the county judge stand out, compared to many other local elected officials – city council members, for example – is that the role of the county is more of a full-time job with salaries starting at more than $150,000, according to county documents.
Another important part of the role is working with cities, Fickes said.
"One of the most important things we do is have a good working relationship with cities — and I have about 12 or 13 in my neighborhood," Fickes said. "I got to know the city managers, the mayors, the directors of public works. I have to know all these people because I deal with them.
Whitley said it's important for voters to learn about the candidates.
The newly elected commissioners and new county judge will be expected to "collaborate and work with businesses, cities, schools, and non-profit organizations, all to…hopefully benefit all citizens of Tarrant County," did he declare.