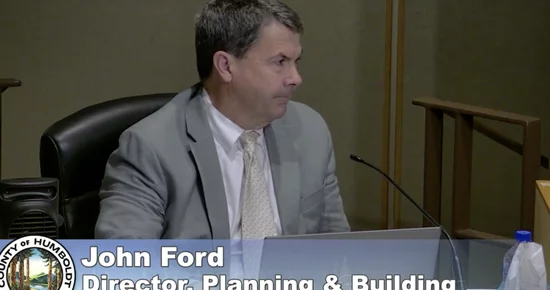 This is when the Planning Commission learned that John Ford was not, in fact, leaving for Fort Bragg | Lost Coast Outpost
PREVIOUSLY: Humboldt County Planning and Construction Director John Ford resigns
###
As last night's meeting of the Humboldt County Planning Commission drew to a close, Director of Planning and Construction John Ford confirmed that he would not be stepping down next week to take up a position. city ​​manager of Fort Bragg after all.
This revelation from Ford, who gave his opinion late last month, seemed to surprise and delight the commissioners.
Planning commissioner Melanie McCavour had asked Ford if this would be her last meeting before she left for her new gig. Ford paused for a few moments, picked up a stack of papers, and patted them on the table before answering.
"Well," he said, "I tried to respect the city of Fort Bragg, but since Lost – or, uh, Redheaded Blackbelt already leaked that, uh, no."
Listen to the reactions of the curators in the video below:
For the record, while Redheaded Blackbelt editor Kym Kemp was the first local reporter to publish the news, it is not fair to say that she "leaked" it. Earlier today, the City of Fort Bragg released a press release, which Kemp issued about 40 minutes after the meeting began last night.
The press release says Ford changed his mind due to family issues, including the challenge of changing his middle school son as well as "his wife's desire to stay where they are."
Ford's expression as he relays this news is inscrutable. Is he upset? Discouraged? Overjoyed? Hard to say. But the joy of the commissioners is obvious.
Chairman Alan Bongio can be heard starting the word 'congratulations' before catching up and changing course. "Well, thank you," he said.
Commissioner Mike Newman simply exclaims, "What?
"Are you staying permanently?" asks McCavour.
"Uh, yeah – well, as definitely as it gets," Ford replies philosophically.
Amid constant expressions of surprise, Bongio said, "Well, I'll be the first to tell you, it's the best thing for our county."
If you listen carefully, you can hear someone – Commissioner Thomas Mulder, perhaps? – express sympathy: "I'm sorry, man."
Whatever the appropriate response — congratulations or condolences — Ford will remain the county's director of planning and construction for the foreseeable future.
Here is the press release from the City of Fort Bragg:
John H. Ford of Humboldt County has requested the release of his contract recently approved by the Fort Bragg City Council. Mr. Ford cited reasons for conflict during the transition from his son's college to Fort Bragg and his wife's desire to stay where they are.

Mr Ford said: "It would place a significant stress on my family and not allow me to be as socially involved in the Fort Bragg community as the job requires."

He goes on to say, "It's a tough realization for me. I love the community and was drawn to the cohesiveness of the town council and to you as individuals. I am impressed with the staff I have met and the impressive list of successful projects they have undertaken. From my perspective, Fort Bragg is well managed and has a bright future. Fort Bragg deserves a leader who isn't torn between serving the community and having to go out of their way to support distant immediate family.

"While we are all disappointed with the loss of Mr. Ford as the next City Manager, we understand the priority of family first and the need to follow priorities in this situation," Mayor Bernie Norvell said. The City will move forward and move in a positive direction.