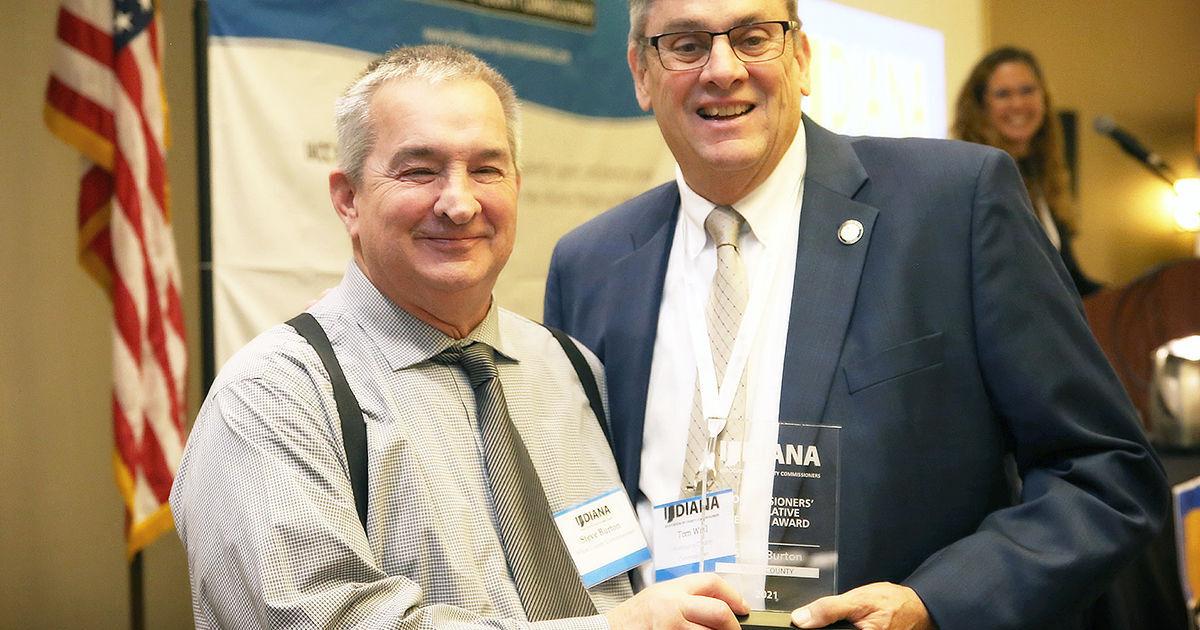 Steve Burton Receives County State Commissioner's Service Award | New
MONTICELLO – Longtime White County Commissioner Steve Burton was honored last week by his peers in recognition of his contributions to advancing county government issues to the state legislature.
Burton, who has served as Commissioner since 2005, received the 2021 Outstanding Legislative Service Award of Excellence for his work for better government and for his active participation in the legislative process.
The award was presented by the Indiana County Commissioners Association.
IACC officials said Burton's active participation was an important contribution to the success of the group's legislative session in 2021 and called him "dedicated" and "persuasive."
IACC officials pointed to Burton's lobbying efforts to defeat House Bill, which allegedly deprived local land use decision-making powers over commercial wind and solar project standards and location requirements. This would have eliminated Indiana's "Home Rule" policy regarding wind and solar farm installations, allowing these projects to proceed in accordance with state regulations, regardless of input from local officials and officials. their constituents.
White County Commissioners passed a resolution on March 1 expressing their opposition to HB 1381, as have many other counties in Indiana.
The award of excellence was presented at the IACC's annual conference in 2021, the largest gathering of county commissioners in the state. The three-day conference included several different workshops and breakout sessions specially designed for County Commissioners and their support staff.
Burton has attended several training workshops on county-related topics focused on American Rescue Plan Act Funding, Legislative Priorities 2022, "How to Tell Your Story", Open Door Laws, Health Strategies mental health and drug addiction, cybersecurity, road financing, etc.
Indiana Lieutenant Governor Suzanne Crouch was the keynote speaker at the conference. She spoke about current issues with local government, expanding broadband through Next Level Connections broadband grants, improving housing needs, revitalizing travel and tourism, supporting farmers Hoosier and improving mental health and addiction programs to reduce prison overcrowding in many counties in Indiana.
State Senator Rodric Bray, leader of the Indiana Senate as president pro tempore, and State Representative Greg Steuerwald, Chairman of the Majority House Caucus, also addressed attendees as they debuted. legislative day.