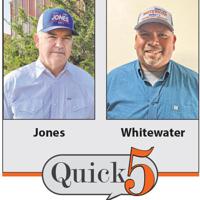 Quick 5: Candidates for Cherokee County Commissioner tout their credentials | New
Bobby Whitewater and Randy Jones are seeking the Democratic nomination for Cherokee County Commissioner, District 1.
The winner of the June 28 primary will face Republican Mitch Sterling in the November general election.
We posed the following questions to the Democratic candidates.
Q: Why do you consider yourself the best candidate for this position?
JONES: "I consider myself the best candidate for this job because I have good business acumen, have held several public positions and have a sense of community. My family and I have started and currently run four successful businesses We've owned Grandview Nursery for 33 years, Skeeters Pizza for eight, Barn Convenience Store for 14 and a VRBO in Keys for two years I've lived in Cherokee County most of my life, served as a volunteer firefighter for a decade at Woodall, and served on the school and water boards at Keys."
WHITEWATER: "In my 20 years of owning and operating a trucking business, I have been involved in several highway projects where I have learned a great deal about road and bridge maintenance. I would definitely use this knowledge in my decisions.For the past nine years, I have been an account manager for one of the largest heavy truck parts companies.I have managed over 90 accounts with total spend of over 3 million dollars a year. I am 46 years old and this will be my full time job. be a career for me, not just a retirement. I was born and raised here in Cherokee county and I want to do this what is right and what will make our community better.
Q: What do you see as the most important issue — or biggest challenge — that will need to be resolved over the next few years to meet the needs of your constituents?
WHITEWATER: "My biggest issues will be improving infrastructure, prioritizing funding, developing a plan to clean up our county's pavements to make our county more attractive and ensuring the completion of our new field Cherokee County Fairgrounds so that we can ensure our future agriculture members have a place to grow within the agricultural community. I think the biggest challenge will be funding due to the current state of the 'economy.
JONES: "A county commissioner's most critical issue is maintaining and maintaining the roads in good condition. During natural disasters, the county is responsible for all emergency response costs."
Q: Why do you consider this issue a top priority?
JONES: "The biggest challenge is that county districts are not budgeted like the rest of the courthouse offices. Seventy-five percent of Oklahoma's roads are funded by the county through the fuel tax and motor vehicle tax. Working with our legislators every week keeping them informed at the state level helps us at the county level."
WHITEWATER: Infrastructure is important to do as much as possible while we still have the CARES Act funding funds.
Q: How do you plan to solve this problem if you win the elections?
WHITEWATER: "I will work diligently to prioritize my district's issues and secure as much funding as possible to complete the necessary projects."
JONES: "Once elected, I will address this issue by having an open line of communication between our legislators and the Cherokee County Commissioners. Diligently informing legislators of our needs and concerns at the county level will help maintain our funding for the state level up."
Q: What would be the benefits to your constituents if your efforts were successful?
JONES: "My constituents will benefit from my successful communication with lawmakers by accumulating more funds for our roads and bridges. This will allow for better infrastructure for Cherokee County. Building a relationship with state elected officials and working hand in working with the Cherokee Nation to create a healthier outcome for the people of Cherokee County."
WHITEWATER: "They will have safer roads and bridges as well as a commissioner who will do everything in his power to be the voice of the people of District 1."
NAME: Bobby "Cub" Whitewater.
AGE: 46 years old.
HOMETOWN: Tahlequah.
OCCUPATION: Account Manager/Former Business Owner.
FAMILY: Wife Lisa Kindle Whitewater; three adult children, Timothy, Kindle and Jewlee; a granddaughter, Sara.
EDUCATION: High school.
HOBBIES: Working around our farm, riding motorcycles, riding UTVs.
NAME: Randy Jones.
AGE: 61 years old.
HOMETOWN: Tahlequah.
OCCUPATION: Business owner.
FAMILY: 3 sons: Tyler, Trent, Dusty; two granddaughters, Harlow and Kenlee.
EDUCATION: Graduated from Tahlequah High School and attended NSU.
HOBBIES: Spending time with family and friends.
Key dates
June 13 — Deadline to request postal voting.
June 23-25 ​​— Early Voting.
June 28 — Primary election.