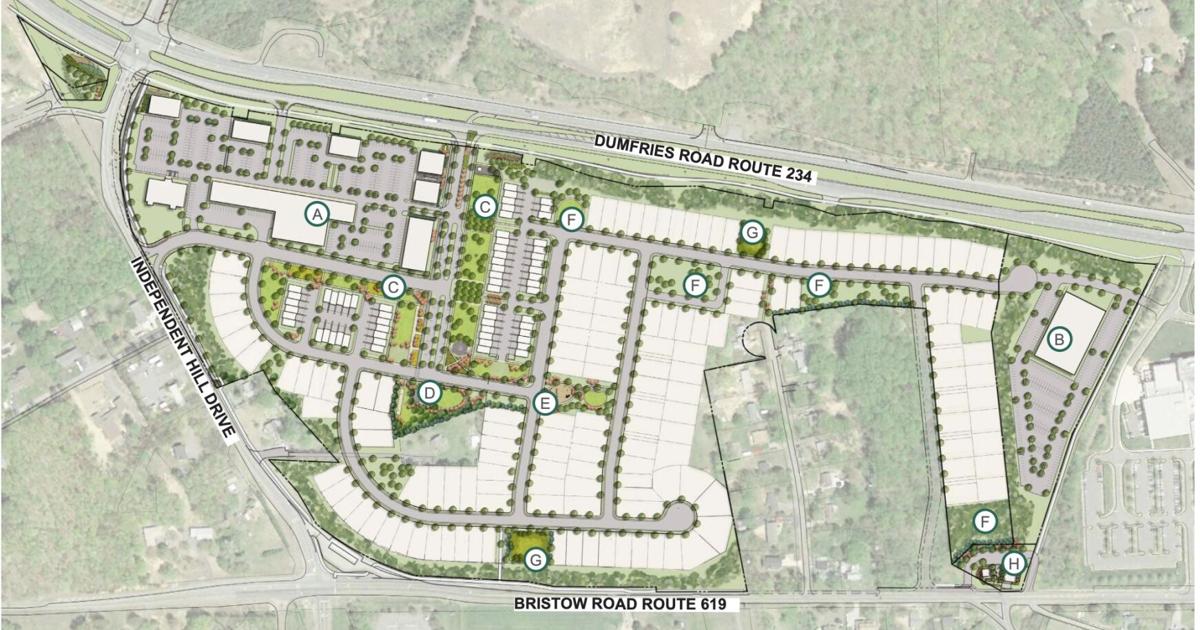 Prince William Planning Commission recommends denial of Independent Hill development | Securities
A proposed mixed-use resort at Independent Hill is on fragile land.
At its meeting on Wednesday, the Prince William County Planning Commission recommended the denial of an application to rezone 69 acres between Dumfries and Bristow roads from agriculture to planned mixed residential.
McLean's Elm Street Development submitted the proposal in 2018 and wants to build 210 residential units with 219,000 square feet of retail and office development. The property is sandwiched between Dumfries and Bristow roads east of Independent Hill Drive.
County staff praised the plan for largely meeting the goals of the Independent Hill Small Area Plan. The plan, approved early last year, covers around 544 acres of land near the Prince William County Landfill, Colgan High School and Prince William Forest Park. It calls for a mix of commercial and residential uses in the area.
However, the application was filed in February due to concerns over changes to lot sizes and buffer zone standards, technical issues and a proposed shared-use path along Independent Hill Drive.
The problem with the path is that the company doesn't own two parcels along Independent Hill Drive, so either the path would have a gap or it would have to take a winding route around those properties.
Those concerns continued to hamper the project on Wednesday. The revised plan called for the county to seize the land needed for the trail through eminent domain if the company could not acquire it.
The prospect of tying an eminent domain to a private project did not sit well with the commission.
"I really question the advisability and legality of including eminent domain in a bid for private development," said Commissioner Coles Joseph Fontanella Jr. "It has to come out"
Fontanella also wanted to reduce the number of units to 197, reduce shared driveways and add fencing around the neighboring property.
"I'm disappointed that we can't get closer to where our district wants it to be," he said.
However, lobbying for the project as a whole, solicitor John Foote, speaking on behalf of the claimant, said housing would vary and include affordable single-family units.
Neabsco Commissioner Qwendolyn Brown backed the proposal largely because of affordable housing.
"I think any project that has affordable housing…is a plus," she said. "There are a lot of teachers and other county workers who live in Stafford or Fredericksburg and work in Prince William County, and I think that's a travesty."
Brown's efforts to persuade the majority of his colleagues failed, however, and the commission voted 4 to 3 to recommend rejection.
Fontanella and commissioners Richard Berry (Gainesville), Robert Perry Jr. (Occoquan) and Cynthia Moses-Nedd (Woodbridge) supported the denial. Brown and Commissioners Juan McPhail (Potomac) and Patty Kuntz (At-Large) cast dissenting votes. Brentsville Commissioner Tom Gordy was absent.
The proposal will still go to the Supervisory Board for a final decision.