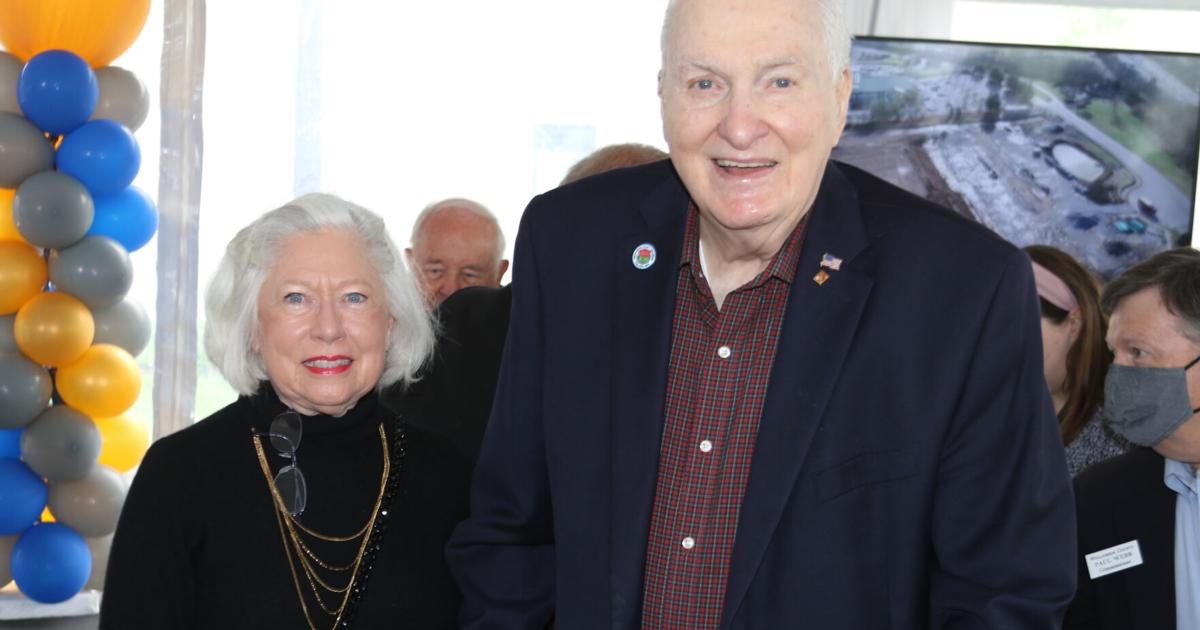 Longtime Chalfant County Commissioner remembered for helping shape community | Local News
The town of Brentwood has lost its longtime resident and humble servant BG (TN) Bertram (Bert) Humble Chalfant, Jr.
Chalfant died at home surrounded by his beloved wife, Betty Jane, and family members. He was born on June 13, 1936, and Chalfant left this earthly life on Wednesday at the age of 86.
Chalfant has given back to his community in many ways, including serving as Williamson County Commissioner for District 7 for 32 years.
District 7 County Commissioner Tom Tunnicliffe has many fond memories of his colleague and friend.
"I've been thinking a lot about Bert over the past few days," he said. "I knew he was a Christian, not because he had already talked about it with me. I knew by the way he behaved, you just knew he was a man of faith by his actions.
Tunnicliffe also remembers that Chalfant could take a different view of an issue, while respecting the other side.
"He had a lot of qualities that I would like to have," he said.
A strong supporter of Williamson Medical Center, Chalfant has served on the board of directors.
"Bert Chalfant joined the Williamson Medical Center Board of Trustees in 1996 as a dedicated servant with a strong commitment to ensuring the delivery of high quality, compassionate care," said Phil Mazzuca, CEO of Williamson Medical Center. "During his tenure, Bert helped lead the hospital through many significant growth initiatives, including the expansion of the original tower, medical office building and parking garage; the addition of our children's hospital; and the establishment of the Bone and Joint Institute of Tennessee.
Mazzuca added: "Words cannot explain how much Bert will be missed here. As two of our most enthusiastic supporters, Bert and his wife Betty Jane always exude a general sense of pride and love for WMC when they tell anyone who wants to listen how important the hospital is to our community.
Williamson County Mayor Rogers Anderson and Chalfant joined the county commission at the same time in 1986.
"His time on the commission, on the hospital board, his service in the military and other civic organizations demonstrate what a servant of the community he was," Anderson said. "He has served on all of the commission's committees and has helped build this community in so many ways. His wisdom and service will be greatly missed.
Former Brentwood City Commissioner and current County Commissioner Paul Webb recalled that his friend had been in many Veterans Day parades.
"He wore 18th and 19th century costumes in parades and did it until it became too painful to walk in them," Webb recalled. "Many people who served many terms with Bert included Garland Teague, Judy Hayes and Rogers Anderson."
Hayes and Chalfant served together for many years after being elected together, calling him "a gentleman who was a lifelong health care activist and committed to doing good for the community.
"The way he lived and behaved, people could see the goodness in him," Hayes said. "He always treated people with respect."
Hayes said he started Crime Stoppers in partnership with the Williamson County Franklin Chamber of Commerce. WCFCC President and CEO Nancy Conway fondly remembers her friend.
"I've known BJ (Betty Jane) since third grade," she said. "They were a wonderful couple. Bert was a dedicated person regarding his military career. He was a family man and loved this community.
"He worked with the Nashville Police Department to bring Crime Stoppers to the county."
Conway also remembers how he helped plan the Franklin Christmas Parade for many years.
"He always took care to build Santa's float," she added.
Chalfant was born in Nashville to the late Bertram Humble Chalfant and Argie Sherrod Neil Chalfant. He was predeceased by two stepmothers, Attie Vernon Jarman Chalfant and Julia Lafayette Norwood Chalfant.
Chalfant attended Parmer School, Montgomery Bell Academy, and Vanderbilt University in Nashville. On May 31, 1958, he was commissioned a second lieutenant in the ROTC in the United States Army and served 33 years during which he earned two Distinguished Service Medals, a Meritorious Service Medal, a Bronze Star among other medals.
After active military service, Chalfant returned to Nashville working in numerous family businesses as well as banking where he retired as president of First Tennessee Bank, Rutherford County.
Leaving a legacy of a fulfilled, dignified and selfless life, he gave to his family, his church and his community.
He is survived by his beloved wife of 40 years, Betty Jane Brindley Cook Chalfant; two daughters, Lea Neil Chalfant Sullins (Dan) and Anna Eugenia Chalfant O'Neal (Scott); two stepsons, James Bradford Cook and Jonathan Creighton Cook (Lynn Archer); sister, Argie Chalfant Oman; Nephew, John Allen Oman (Martha Arnold) and niece, Argie Vernon Oman McDonald (William) and grandchildren Dan Crawford Sullins, Jr., Ayla Gabriella O'Neal, Erich Neil Sullins, Cleveland Bates O'Neal, Grayson Payne Cook, Jackson Henley Cook, LCpl Griffin Bradford Cook (US Marine Corp), Carson Lenore Cook, Margaret Emerson Cook and Sarah Scott Elizabeth Cook.
Celebration of Life services will be held Tuesday at First Presbyterian Church in Nashville at 1 p.m. with visitation at the Cheek House from 11 a.m. to 1 p.m.
Grave will follow at Mount Olivet Cemetery, 1101 Lebanon Road, Nashville, TN 37210
In lieu of flowers, donations may be made to First Presbyterian Church Nashville, 4815 Franklin Road, Nashville, TN 37220 or Alive Hospice, 1718 Patterson Street, Nashville, TN 37203.