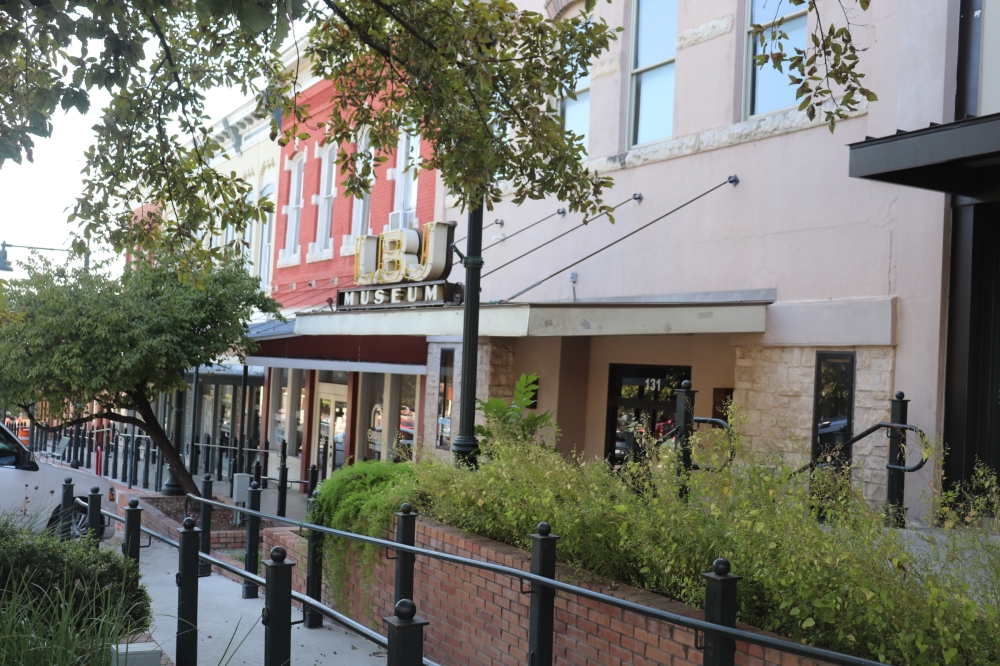 LBJ Museum to Receive Repairs and Other News from Hays County Commissioners Court
The LBJ Museum at 131 N. Guadalupe St. will receive over $ 40,000 for repairs. (Zara Flores / Community Impact Journal).
The Hays County Commissioners' Court agreed to allocate $ 44,444.81 to the Lyndon B. Johnson Museum in San Marcos for interior and exterior repairs at the October 5 regular meeting.
Commissioner Debbie Ingalsbe said work has been done on the building, which is owned by the county, but there are still some issues that need to be addressed to make the building look presentable.
The paint, concrete and columns of the building are among the issues that will be worked on and completed with the money requested from the museum director.
Financing of health care for indigent populations
The commissioners agreed to continue their annual agreement with the Christus Santa Rosa Hospital in San Marcos to provide $ 2,000,000 for the health care costs of the indigent population.
"We've been doing this, I believe, for 11 years now. These fees cover the expenses related to the indigent [population] care throughout the county, "Commissioner Lon Shell said.
Shell said care covered by these funds is available at Christus Santa Rosa Hospital and Live Oak Health Partners Community Clinic for all residents of Hays County.
"It's a wonderful program, judge, and I just hope we can continue with it. I know there was talk of her disappearance, so let's keep our fingers crossed, "Ingalsbe said.
Animal shelter update
In response to a funding request from the previous September 21 meeting, the tribunal of commissioners approved a request for qualifications to conduct a study to determine the feasibility of building a centralized regional animal shelter. With the San Marcos regional animal shelter overcapacity, community members have asked for help to tackle the problem.
"Anything we can do to come together and have a better facility and [an] The adoption center is long overdue, and I'm definitely in favor of us moving forward, "said Ingalsbe.
Judge Ruben Becerra said his greatest hope for this project is to move it forward so that it does not "die on the vine". He hopes that the community and neighboring municipalities can participate in the study so that there can be a solution to the problem in question, not just a band-aid.
The next Commissioners Tribunal meeting will be on October 19 at 9 a.m. at the historic Hays County Courthouse, 111 E. San Antonio St., San Marcos.