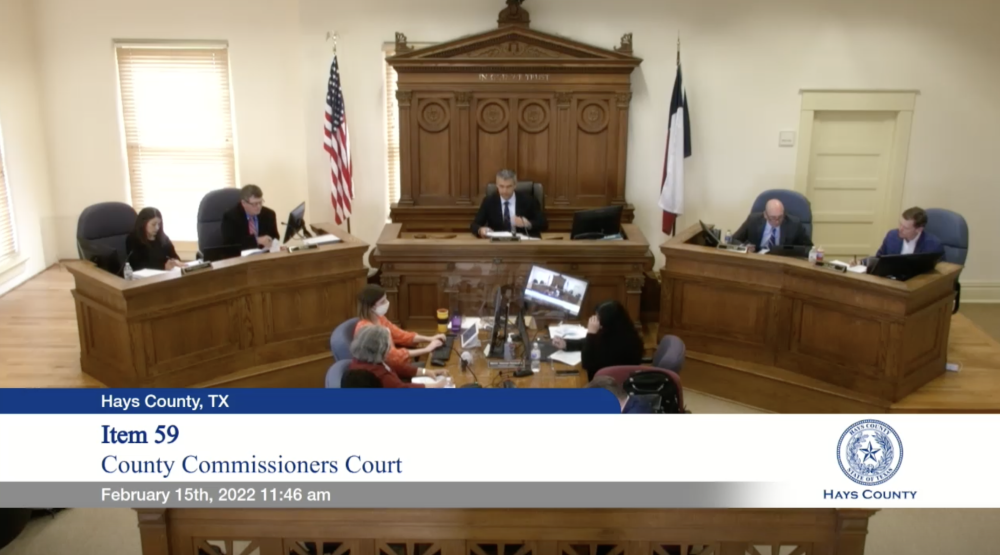 Hays County Commissioners Court awards contract to Emergency Rental Assistance Program manager after nearly $2.5 million loss
The Hays County Commissioners Court awarded a contract to the Emergency Rental Assistance Program Manager on February 15. (Courtesy of Hays County)
In the wake of yet another loss of funds from the Hays County Emergency Rental Assistance Program, the Court of Commissioners approved a contract for the ERA program manager position, which has been vacant since early January, February 15.
The contract was awarded to Ardurra Group, Inc., a consulting firm that works with the company in the public and private sectors and has offices in Austin and San Antonio.
Since the start of 2022, the ERA program has lost nearly $2.5 million in US Treasury Department funding for not meeting targeted payout amounts.
County operations manager Tammy Crumley said much-needed changes have been made to ensure a more efficient workflow since the initial loss in January.
As of February 14, there were 357 open applications. Of these, 185 are awaiting completion by citizens, 139 are being reviewed by ERA staff and 33 are being reviewed by an auditor, Crumley added.
"Hiring staff has been extremely difficult. We've posted part-time positions since July and very few applicants," Crumley said.
The ERA program's only full-time employee quit in late January, however, a new employee is expected to start in late February and will be joined by two other part-time employees, Crumley said.
"It's wonderful that we are at this stage, ready to negotiate a contract. I appreciate the work of all the staff on this. We received these proposals very quickly, we had to review them very quickly to meet this implementation deadline [the agenda]. It is important that we act as quickly as we have to ensure that we are on top of all of this. said Commissioner Debbie Ingalsbe.
Although the contract has been awarded to Ardurra, negotiations on the details will follow. The court will vote on the final contract at a later date.