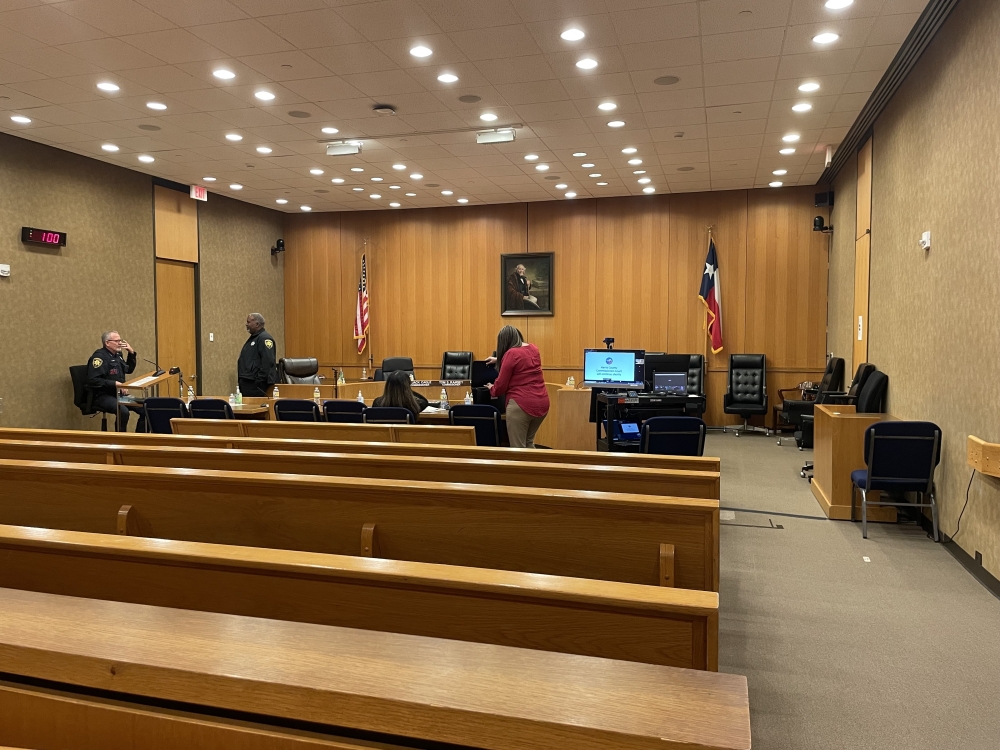 Harris County Commissioners Court Preview: Bond Discussion, Flood Control Updates
Harris County commissioners will meet on July 19 for their only session this month. (Rachel Carlton/Community Impact Journal)
Harris County commissioners will meet July 19 for their only session this month to discuss a possible bond issue in November, receive updates from the flood control district and possibly approve funds for a maternal care program.
The agenda for the Court of Commissioners is published at 9 a.m. on the Friday preceding each meeting. Meetings take place at 10 a.m. and are available live here.
Discussion on bonds, continued
County Administrator David Berry and Precinct 3 Commissioner Tom Ramsey called for a follow-up discussion on a potential $1 billion bond issue for the November election.
Berry's office created a preliminary breakdown of bonds, which was presented to the commissioners on June 28; the plan proposes to allocate $700 million to roads and public transit, $200 million to parks and $100 million to public safety.
At the final court meeting, Ramsey said he was fine with the idea of ​​a bond, but worried that the deadline for passing the bond – which would leave 88 days before the November election – does not allow enough time to communicate with voters.
Flood Control District Updates
The Harris County Flood Control District is asking commissioners for approval to submit a $950,000 grant application from the U.S. Department of Homeland Security to expand its pilot study of urban flood risk. The district previously received $950,000 for the pilot project from the Federal Emergency Management Agency in 2021.
According to Todd Ward, head of the risk mitigation department for the HCFCD, the results of the pilot study will inform the next steps for a follow-up study to assess flood risk in urban areas and determine effective ways to communicate these risks.
The HCFCD is also updating the court on the progress of the Harris County Modeling, Assessment and Outreach Project, or MAAPnext, which is a partnership with FEMA to update floodplain maps in the county's watersheds.
MAAPnext began in 2019. In January, the district delivered models and maps to FEMA, which will use the information to release preliminary flood insurance rate maps to the public in late summer or September. early fall.
This update is provided in the form of a transmission, which is a document filed electronically in court and therefore will not necessarily be discussed at the meeting.
Maternal health program
Harris County Public Health is asking for $7.75 million for its Maternal and Child Health Program, a new home visiting program for pregnant women in underserved communities.
The program will focus on Black mothers and their infants by providing a point of contact for visiting mothers in their homes, arming them with information and improving their access to care.
In its court submission for the July 19 meeting, HCPH said black maternal mortality rates in 2020 were 81.47 per 100,000 live births in Texas and 106.01 in Harris County. From 2016 to 2020, the black maternal mortality rate was 94.8, compared to 37.75 for Asian and Pacific Islander mothers, 26 for Hispanic mothers, and 23.5 for white mothers.
If approved, the program will pilot in September and will target pregnant women and black mothers with infants under 12 months with a maximum of 100 participants. HCPH has budgeted $1.28 million for the first year of the program, with 52% of the funding going to cover salaries.
Previous Community Impact Journal the reports discussed rising maternal mortality rates as well as efforts to reduce those rates in the Houston area.
Departmental towing agreement
Ramsey requested discussion about a deal with AutoReturn, a San Francisco-based company that provides tow management services. The company acts as a link between law enforcement and tow truck companies and sends the closest available tow truck to the site, preventing a competition between different companies from getting there first, according to the AutoReturn website.
The county entered into a service agreement with the company last October for a one-year pilot period — at no cost to the county — to handle towing for the Harris County Sheriff's Office in law enforcement-initiated tows. police, owner requested tows and seizures of private property.
According to the agreement provided by the Office of County Administration, AutoReturn's services are funded by a $22 administrative fee paid by towing companies or storage facilities, which is then billed to the operator of the vehicle. Drivers pay an additional $5.50 to storage facilities or the towing company if it takes the vehicle elsewhere, according to Thomas Gilliland, public information officer for the sheriff's office.
The agreement stated that in total, drivers would have to pay the county $173 after the program was fully implemented, less than the City of Houston's rate of $175.50. The county's current rate is $145.50, according to the county's tow truck ordinance.
AutoReturn operates in Austin, Fort Worth, Round Rock and San Antonio.
Outsourcing of inmates
The Office of the Procurement Agent is seeking approval for a $25.75 million deal with Management & Training Corp., a contractor that runs prisons, to subcontract inmates at Giles Dalby Correctional Facility in Post , outside Lubbock.
Before entering into a contract with MTC on June 28, the commissioners had already approved two separate appropriations of $1.52 million and $7.62 million earlier this year to divert the prison population. According to agenda documentation, a prison renovation project, a mandate from the Texas Commission on Jail Standards, and increasing the average inmate stay from 65 to 85 days before Hurricane Harvey and COVID-19 up to 200 days in 2022 led the sheriff's office to apply for funding.
Outsourcing provided by the sheriff's office may be required for up to seven years, depending on its request for funding.