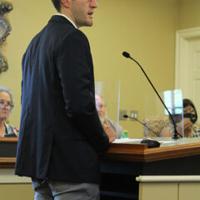 Greensville Planning Commission Rejects Purdy Solar Proposal | New
For the second week in a row, the Greensville County government killed a solar farm project before it could start.
At Tuesday night's meeting, the Greensville County Planning Commission voted 6 to 1 to reject Application 2232 for the Purdy Solar project, on the grounds that it does not fit into the county's overall plan. Kim Wiley was the only dissenting vote.
"I've been on this council for almost four years and I've heard all this talk about money, and this county has yet to see a dime," said 3rd District Supervisor William Cain, who sits also to the Planning Commission. "I don't want to see another solar farm in Greensville County until I can see results from the ones we've already approved."
This could mark a turning point in Greensville County's stance on solar development, with five projects previously approved and another in the approval process. Last March, the Board of Supervisors set a cap of 7,600 acres — about 4% of the county's total land area — that can be used for solar installations.
Last week, at its monthly meeting, the supervisory board also rejected the Monarch solar project proposed by Urban Grid. This project, however, at least passed the supervisory board for a vote, which Purdy Solar's proposal did not. Even if either of these applications were successful, the organizers would still have had to file a "special use" permit and have it approved before starting construction.
If approved, the Purdy Solar project – a joint venture between Palladium Energy and Renewable Energy Services – would have occupied 336 acres of land adjacent to Purdy Road and produced 65 megawatts of electricity.
At the start of the meeting, Tom Delafield, Director of Project Development for Renewable Energy Services, gave a point-by-point presentation outlining how Purdy Solar claims to tick every box of the county's overall plan. Many residents living near the affected area said they disagreed. The crowd for the meeting filled every seat in the Greensville County Board Room and spilled out into the hallway.
Nearly half of Tuesday's meeting was devoted to the "public comment" portion, with more than a dozen concerned citizens from across the county taking the podium. Among the packed crowd, sentiment was almost unanimous against the project and against the rush for new solar projects in Greensville County.
For more than an hour, citizens showered Purdy Solar representatives with complaints and concerns. These range from uncertainty about how continued solar development would affect the "rural character" of the region, to concerns about the safety of solar farms in general.
The latter became obvious after Sadler's solar farm on Dry Bread Road suffered two fires in less than a month in March.
Anti-Solar sentiment was so strong that public comments routinely exceeded the three-minute limit and nearly every comment was met with applause, both of which are technically against the rules.
"While I believe that the people planning this project are well intentioned and are basing their decisions on the best information available at this time, my greatest concern is for the long term effects as we do not have historical data or historical experience to judge," said Emporia resident Angela Wilson. "Our families are too important to move forward now with the hope and promise that all will be well in the future."
By law, anyone filing a 2232 petition can appeal the Planning Commission's decision, though it's unclear if Purdy Solar organizers will choose to pursue this.