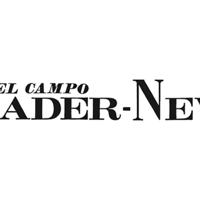 Commissioners' tribunal to discuss taxes and funds | News
The Wharton County Commissioners Court will work together on a joint COVID-19 expense claim from the Houston-Galveston Regional Council on Monday.
The commissioners are expected to formalize new electoral districts for commissioners, justices of the peace and police officers at its 9:30 a.m. meeting in the Wharton County annex building.
Among other items on the county agenda, the commissioners:
• Take into account the guidelines and criteria for granting tax breaks. This is a review done every two years, but it comes at the same time that Southern Rock Energy Partnership applied for the tax incentive to build a refinery near El Campo on its southwest side.
• Consider joining the Texas attorney general's office to accept and participate in the state's opioid settlement agreement with Johnson and Johnson.
• Roll the remaining funds from Kinder Morgan and M2E3 for road damage settlement.
• Award of an architectural service offer for the design and pre-engineering of a metal building for the transfer station at East Bernard.
• Hire Russell McDougall as Wharton County Emergency Management Coordinator, effective March 1st.
• Purchase a server for the County of Wharton library.