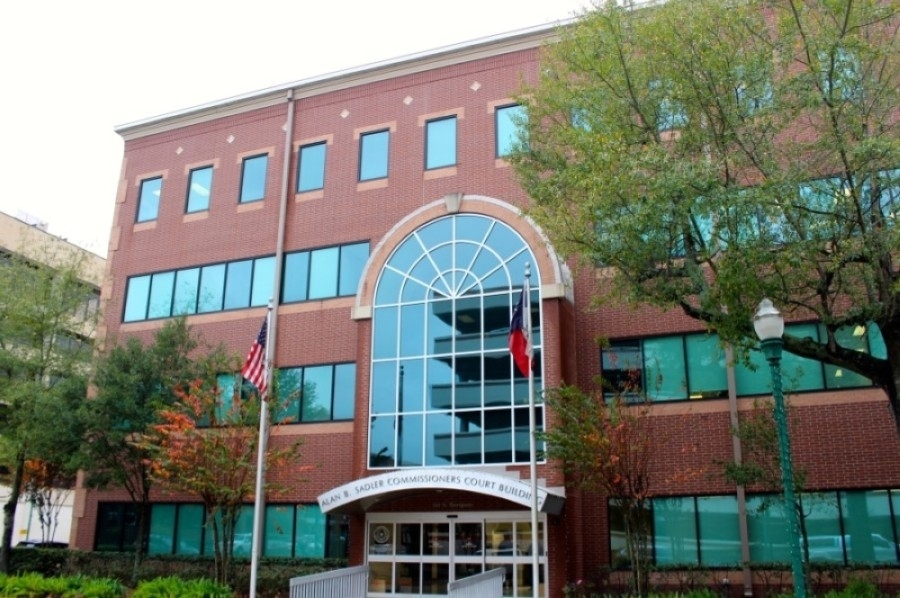 3 takeaways from the December 8 meeting of the Montgomery County Court of Commissioners
County commissioners voted on the nominations for the emergency service districts and their assessment district candidate at a commissioners tribunal meeting on December 8. (Ben Thompson / Community Impact Journal)
The Montgomery County Commissioners' Court held a meeting on December 8. Here are three takeaways.
County Safe House Land Lease Agreement
Commissioners approved a land lease and a framework agreement with the Christian Covenant School in Conroe to build a county safe house for first responders to base themselves on.
Jason Millsaps, county office director for homeland security and emergency management, introduced the deal and described the project as an "almost indestructible dome" on the school's campus.
According to the agreement, the structure will be approximately 19,000 square feet and will be able to accommodate up to 674 first responders.
"A hardened bunker would be needed to house first responders for this type of disaster," Millsaps told commissioners.
According to Millsaps, Montgomery County would lease the school land, which would then be responsible for building and maintaining the dome for the next 30 years. Millsaps said TDEM would cover Covenant's cost-sharing agreement and that FEMA grants after Harvey would also fund the project, which he described as having "no cost to the county."
Following a question from Ward 3 Commissioner James Noack, Millsaps clarified that while state agencies could partner with first responders in the bunker, the bunker itself would be a local asset and under county disaster control.
School principal Dr Glenn Slater said it was the school's duty to give back to the community.
"Most importantly for us, we wanted to serve our county," Slater said.
County votes in assessment district
The commissioners also voted for the Montgomery County Assessment District Board of Directors after some discussion.
The five-member board of directors is responsible for governance of the assessment district, according to the MCAD website. The board of directors does not assess individual properties, but rather is responsible for managing "important administrative and financial decisions", such as the selection of the chief district assessor.
Council members are elected by tax units, such as cities, special districts, and Montgomery County, and serve two-year terms. 5,000 votes are collected from all tax units, with Montgomery County having the most with 920.
County Judge Mark Keough and Noack brought forward a motion putting the county votes in favor of Peggy Hausman, who is currently a board member and former director of The Woodlands Township. However, the motion failed and the other three commissioners voted against it.
Keough said failing to come to a unanimous decision on the county's chosen candidate could dilute the available votes.
"If our votes are watered down, we could be kicked out by school districts," Keough said.
District 4 Commissioner James Metts brought forward a motion to vote for the county in favor of Frank Smith. According to a biography the MCAD received, Smith is the owner and operator of ET Motors in New Caney.
The motion to vote for Smith was carried unanimously, without further discussion. A spokesperson for Metts' office did not respond to a request for comment on the commissioner's motion.
County ESD Candidates Appointed
The commissioners voted to approve the commissioners of the emergency services boards of Districts 1, 4, 7, 8 and 14.
The nominations were confirmed under the consent agenda section of the meeting, meaning there was no open discussion. However, Commissioner Noack of District 3 proposed an executive closed session before confirming the nominations for ESDs 8 and 14.
Confirmed changes are below.
Montgomery County ESD # 1:
J. Steven Weisinger, Sharene Carr and David Cooper will be reappointed for a two-year term.
Montgomery County ESD # 4:
Brian Arceneaux and Karen Keels will be reappointed for two-year terms.
Montgomery County ESD # 7:
Wanda James, Jan Peterson and Jacqueline Wat will be reappointed for a two-year term.
Montgomery County ESD # 8:
Rodney Otto will resign effective December 31 and will be replaced by Jeff Windham for a two-year term effective January 1, 2022.

James Kelly's term will end on December 31, and he will be replaced by Shawn Lafferty for a two-year term effective January 1, 2022.

Leah Gray's term will end on December 31, and she will be replaced by Cassidy Rodriguez for a two-year term effective January 1, 2022.
Montgomery County ESD # 14:
Alan Dreesen, Shirley Grandjean and Danny Olsen will be reappointed for a two-year term.